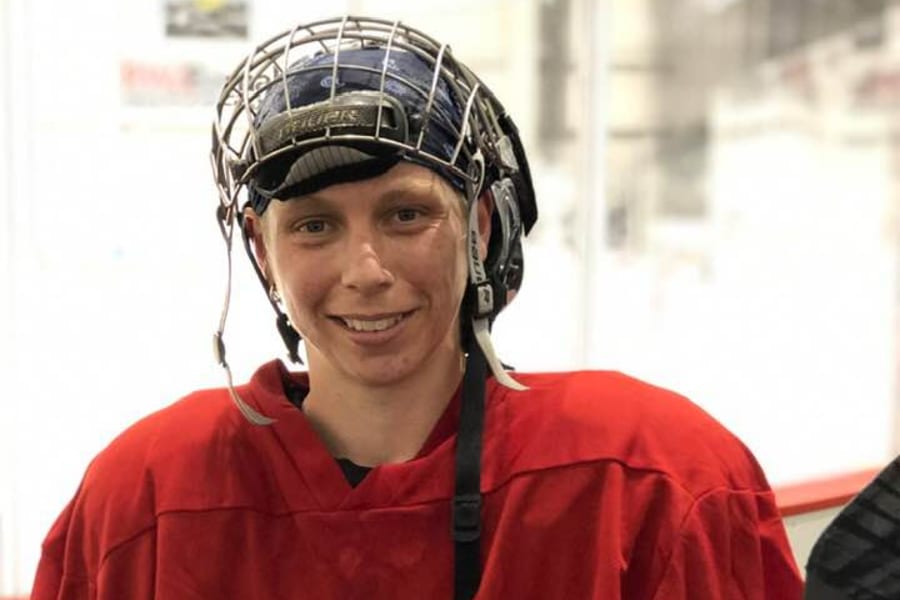 The greatest challenge in writing about Metropolitan Riveters defender Nichelle Simon is knowing where to start. Do you begin with the fact she didn't get her on-ice start until she was a 17-year-old? Do you instead go with the fact that she rose so quickly, was so head-and-shoulders better than those she played with and against, that she transferred from her public school in Atlanta to the veritable hockey factory that is Shattuck St. Mary's mere months later? Or how about the fact that she started her own women's team, she hasn't played at a major competitive level since her final college campaign in 2004-05, she competed on American Ninja Warrior or she's a cancer survivor who tried to put off chemotherapy treatments last summer in order to tryout for the NWHL?
Maybe we should start with that last one, because it's why Simon, 36, will be the league's oldest newcomer this season instead of a spry 35-year-old rookie.
When the NWHL burst onto the scene in 2015, Simon had heard about the fledgling league and was urged by some of those around her to give it a shot, test her mettle, see if she could transition from standout recreational player to professional athlete in the burgeoning women's circuit. In the years since her time at NCAA Div. III Neumann University ended, she had continued to grow her game. She was and had been practicing with a boys AAA team in Huntsville, Ala., since 2007, she continued skating in recreational men's leagues and she played on weekends. By her estimation, she was a better player then – and she's a better player now – than she had never been. The issue, however, was that Simon was on a different journey at the time.
In August 2015, she had committed herself and her life to training for American Ninja Warrior. Hockey was on the back burner, and that's where it remained for the next two years while Simon lived in the gym, earned her spot on the ninth season of the program and competed with and against some of the best athletes in the world. But at the culmination of her pursuit of one dream, and with time to take stock of what she wanted to tackle next, Simon's focus shifted.
During the 2017-18 NWHL campaign, she began flirting with the idea of playing in NWHL. And it was in the late stages of that season that she committed. In February 2018, Simon made plans to head to Nashville where she would train with Total Package Hockey – she's the director of administrations for TPH – in preparation for an NWHL tryout.
"I was ready to go do that, had a hotel booked, was ready to move and everything," Simon said. "I went to the doctor and was diagnosed with breast cancer on February 22nd of that year, two weeks before I was ready to go."
And here's the part where you come to understand something about Simon's drive and determination: when faced with the cancer diagnosis, among her first questions was whether or not she could put off the surgery, stall the chemotherapy and continue the pursuit of her newfound NWHL dream. As Simon put it, she's not one who does well when her plans are altered by outside forces. She didn't want to let anything get in her way. But this? This she had to accept. Her doctors told her she could wait weeks, but not the months her training would require. She went under the knife. She went through four hard months of chemotherapy.
"And all that time, all I was thinking was, 'Get through this so I can try out for the NWHL next year, because I'm only getting older every year. I'm healthy and I'm strong,'" she said. "And coming off of American Ninja Warrior, I was the strongest and healthiest I've ever been and I didn't want to lose that."
By the time she finished her treatment in July, however, it had taken its toll. And while it didn't stop Simon from skating in Chicago's "Puck Cancer" tournament four weeks after her final round of chemotherapy, which she called one of the most challenging weekends of hockey of her entire life, she felt the impact of what her body had gone through. When she got back into the gym, she was a shadow of what she had been only several months earlier. "I was weaker and tired so quickly, so I couldn't go as long, couldn't go as heavy, couldn't go as hard," Simon said. "I think it was January, probably, before I really started to feel good in the gym again and could really start pushing a little more."
But over the next several months, with longtime boyfriend, Eric Smith, by her side, she worked tirelessly. She pushed her body to its limit. The gains were small but incremental. In June, she stepped on the ice for an open tryout in front of Metropolitan Riveters staff. The coaches were impressed, enough to give Simon another look. And that's when Simon ramped up her workouts. For the next eight weeks, she trained "100 percent, full, all out, every day, like I had been for Ninja Warrior." Her devotion was rewarded the next time she stepped in front of the coaches. On Sept. 13, her signing by the Riveters was made official when it was announced by the NWHL, and on Sept. 28, Simon stepped foot on the ice for the first time in her professional career.
"I was very overwhelmed," she said. "I was trying to focus on the game but my mind kept coming back to, just, 'My God, what am I doing here and how did I get here? This is amazing.' I'm just in awe of everything and of myself and everything around me. I played that game with a smile on my face almost the entire time. My legs were burning, my lungs were burning and my everything hurt."
Through it all, though, Simon said she was smiling and happy, thankful for what she's been able to accomplish. And when she steps foot on the ice for Game No. 1, her big-league debut, she will do so as one of the league's elder stateswomen despite the fact she is, by all measures, an NWHL rookie. She jokes about it, quips about feeling old – "I told (my teammates) the other day that I've been working at my job for 12 years…And one of them looked at me and said, '12 years? How old are you?'" Simon laughed – but everything that has brought her here has given her a unique perspective on what it means to be accomplishing this dream.
"I'm older than most of them by 10 years or more, and I've lived a lot of things," she said. "I've been through a lot of things, obviously, competed at high levels and different things. I sit there and I feel like I have a different outlook on life and on what I'm doing there. I feel very, very honored and lucky to be there."
View original article at: https://thehockeynews.com/news/article/nwhl-preview-meet-36-year-old-rookie-nichelle-simon-the-nwhls-most-interesting-woman?sfns=mo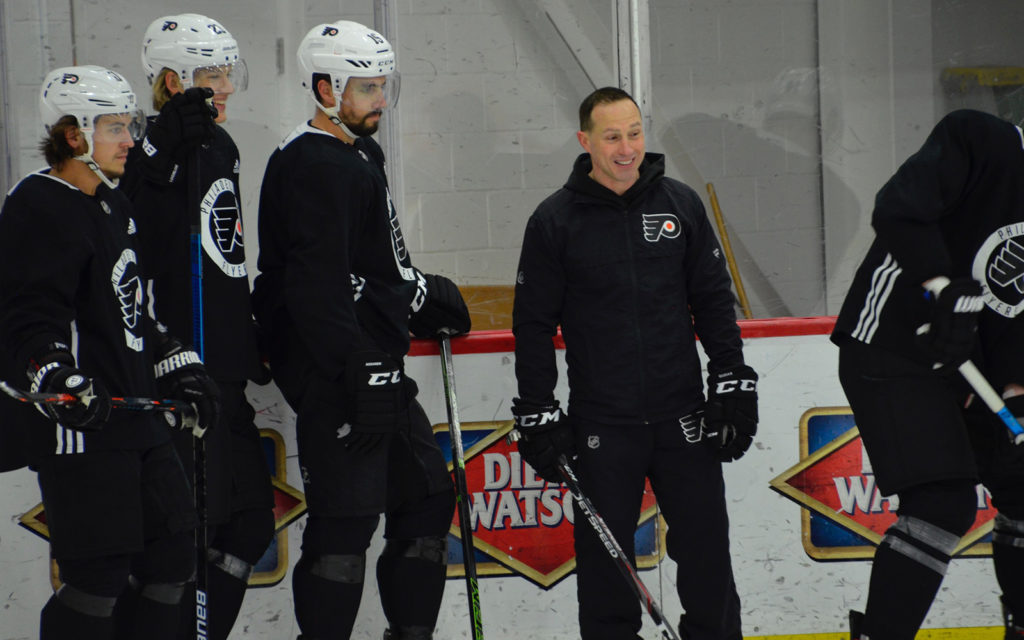 VANCOUVER, British Columbia — The Flyers quietly hired a skills coach, Angelo Ricci, in September, and they hope he can help the players improve in various areas – shooting, stickhandling, skating, winning more puck battles, to name a handful – and that it will lead to more victories.
Hey, when you haven't won a playoff series since 2012, it's worth a try.
When the Flyers are home, Ricci gives the players individual instruction before or after practices held in Voorhees. The players can ask him to work on specific areas they feel need upgrading, or he can make suggestions based on what he has seen.
When the team is on the road, Ricci does the same routine with the Lehigh Valley Phantoms, the Flyers' AHL affiliate.
Ricci was hired by the Flyers after new coach Alain Vigneault suggested to general manager Chuck Fletcher that a skills coach would make the team better. Vigneault had one when he coached Vancouver and the New York Rangers. Fletcher agreed with the idea, and Ricci, who held a similar role with the Buffalo Sabres, was hired as a full-time coach.
"Players always loved it, so when I came here, I thought it was the right thing to do," Vigneault said the other day. "Players love working on different skills you need throughout the game, not just the shooting and the passing, but sometimes the quick turns and taking pucks to the net. Shooting on the fly."
Vigneault said he got "feedback from people who knew Angelo. I got a report from [Avalanche GM] Joe Sakic, who spoke very highly of him" from their days together with the Colorado Thunderbirds AAA team, "made the contacts, talked to him a couple times, and met him down at the draft, and we got him signed and brought him aboard."
James van Riemsdyk had a skills coach during his years with the Maple Leafs.
"It's a really nice resource to have," the Flyers' 30-year-old left winger said. "It's nice to have it in-season, too. We had it more in the offseason in Toronto."
MAXIMIZING PRACTICE TIME
Practices aren't as frequent these days because, with rugged schedules, there's a strong belief that teams should get lots of recovery time after games, keeping them fresher and more effective.
When you do have practices, "you want to maximize your time on the ice and work on your skills," van Riemsdyk said. "You want to keep feeling comfortable with puck touches and things like that. He's an awesome guy and he's super receptive to work on pretty much whatever you want to work on. I work on collecting pucks off the wall and just being more comfortable carrying the puck in different situations in the offensive zone. He has different drills for that."
The Flyers have many areas that can be improved, including getting off more shots. They were 21st out of 31 teams in shot attempts while playing five-on-five last season, though their accuracy was a solid 11th in the league (an 8.3 percent success rate).
Defenseman Ivan Provorov has worked primarily on stickhandling and shooting drills with Ricci.
"Sometimes, you want to shoot a little more, and you stay after practice and work on that, shooting through screens and stuff like that," said Provorov, who scored the Flyers' first goal at the Wells Fargo Center this season as Oskar Lindblom set a screen in front.
It will be interesting to see if Ricci's stickhandling drills, along with drills that give the players quicker sticks on defense, produce results. The Flyers were 18th in the NHL in giveaways last season, and they were only 29th in takeaways.
Attention to such details can help prevent a team from falling behind early. The Flyers had just a .222 winning percentage (24th in the NHL) when trailing after the opening period last season.
Most of the Flyers talked about Ricci's infectious enthusiasm and how they like to be around him while learning.
"You have to be an upbeat, positive guy when you're doing skill work with the guys and making sure everyone is feeling confident, and he does a good job with that and keeping everyone smiling," said right winger Travis Konecny, who has done extra sessions with Ricci to work on shooting off the rush. "His drills are great. They're the type of drills that don't tire you out, so you can get a lot of reps in. He's been great so far."
"He's got high energy and what he does can only add to the toolbox for the organization," center Scott Laughton said.
The Flyers wouldn't make Ricci available for an interview, but his pinned tweet on his Twitter account gave a hint of his personality.
"It takes one moment to change your course of direction, one decision that makes you step up to the greatness you deserve, and only one LIFE to make it happen" go after everything you want in this life with everything you have!!!

— Angelo Ricci (@AngeloRicci16) April 11, 2018
Tweeted Ricci, who has been the director of hockey operations for the Colorado Thunderbirds AAA Hockey Association since 2005: "It takes one moment to change your course of direction, one decision that makes you step up to the greatness you deserve, and only one LIFE to make it happen. Go after everything you want in this life with everything you have!!!"