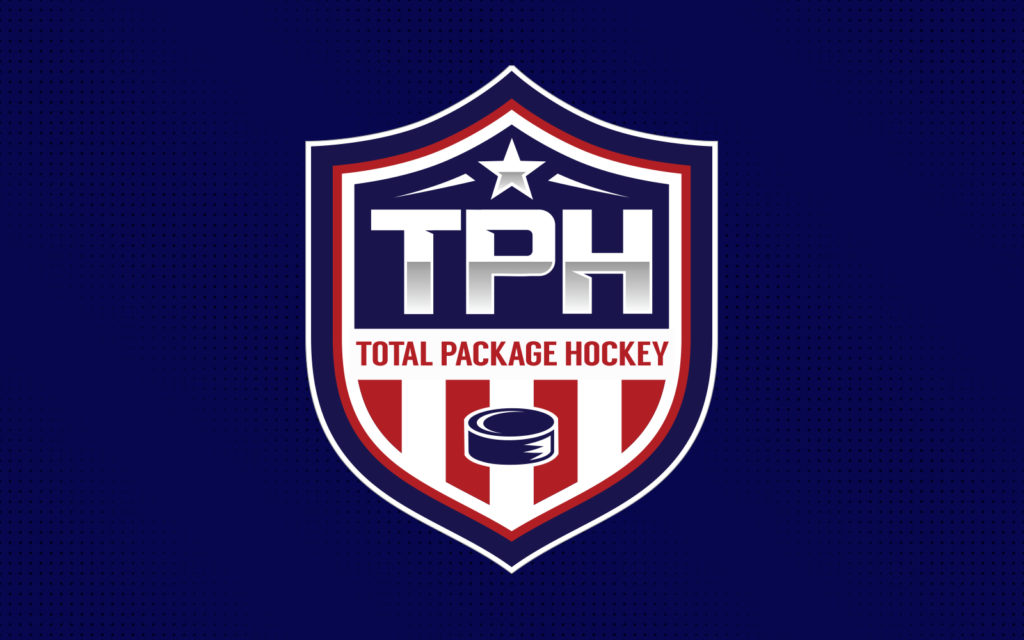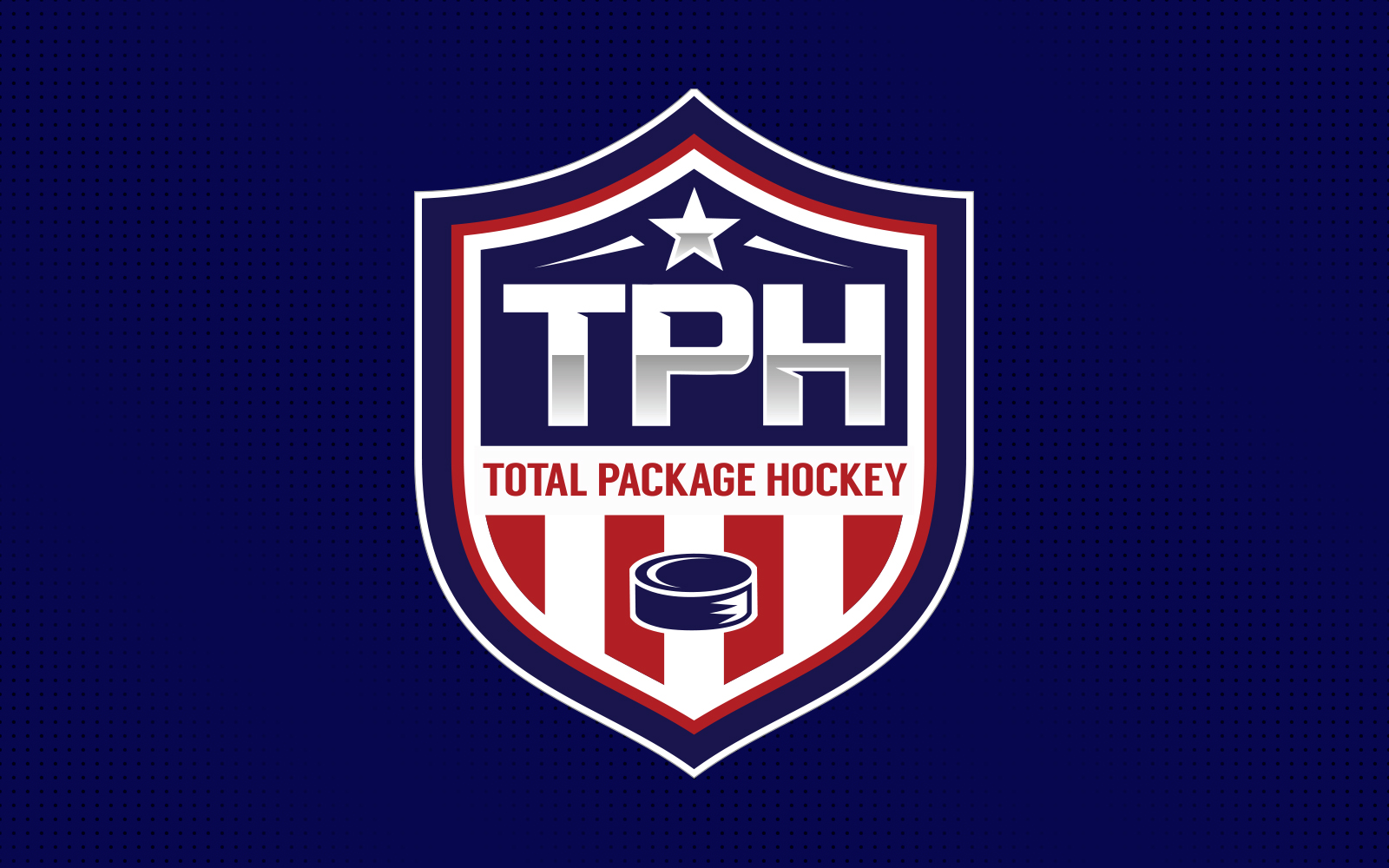 MITCH ELIOT TRYING TO "BE A SPONGE" AT RED WINGS' DEVELOPMENT CAMP
Photo by Michael Caples/MiHockey
Mitch Eliot's first Red Wings' development camp has come with a few bumps and bruises.
It's summer hockey, sure, but it doesn't mean the guys aren't competing. Hard not to when the likes of Ken Holland, Jeff Blashill, Todd Nelson and the rest of the Red Wings' management team are all watching.
Eliot took a stick to the face from Mattias Elfstrom near the end of the first day of training, but it didn't stop him from raving about the start of the camp.
"It was good, it was a cool first skate," Eliot said. "It's good to get on the ice today and get the nerves out of you. It's my first camp, so it was enjoyable and cool to be out here and put this gear on."
The Grosse Pointe native is one of three Michigan natives at the camp in Traverse City, along with Adam Larkin and Tommy Marchin, Eliot's former teammate with the Muskegon Lumberjacks in 2014-15. Fellow free-agent invite Michael Pastujov was Eliot's teammate at Honeybaked, as well.
Photo by Michael Caples/MiHockey
Eliot, entering his sophomore season at Michigan State, said he wants to take in everything from the week-long camp.
"I think just to learn, be a sponge and soak it all in," he said. "For me, it's my first camp, so I'm watching everything, kind of out here to just have fun and enjoy it, but most of all just learn as much as I can."
He's trying to focus on playing and learning, rather than being distracted by who's sitting in the stands watching.
"Not so much," he said when asked if it was nerve-wracking to skate in front of Holland. "That kind of concept has helped me throughout the last few years of my career. You're not really thinking about that, just trying to learn as much as you can, watch as much as you can and enjoy it."
Photo by Michael Caples/MiHockey
The son of former Red Wings goaltender and Fox Sports Detroit analyst Darren Eliot said he headed to Traverse City with simple advice from his dad.
"Just to enjoy it, learn as much as you can," Eliot said. "Just take everything with a grain of salt and keep learning, really."
The 19-year-old blueliner will be trying to take his development camp experience back to East Lansing, where he will be playing for a new coaching staff in 2017-18. The Spartans are set to start a new era under former USA Hockey's National Team Development Program head coach and MSU product Danton Cole.
"I think the new staff will be fantastic," Eliot said. "I'm looking forward to learning from them and playing under them next year. For me, as a sophomore, I'm trying to have a bigger role than I did last year. Hopefully we'll have a little more success than we did last year."
Original article from mihockeynow.com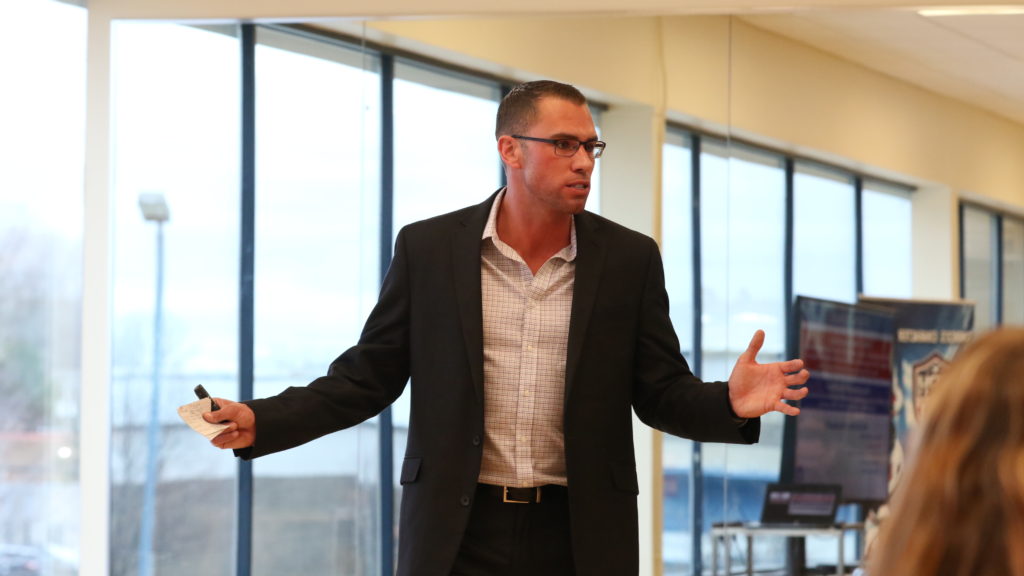 Total Package Hockey is pleased to announce the addition of Francis Anzalone to its executive team, as the company prepares for its 16th year as a leader in the on and off-ice development of student-athletes.  Anzalone spent the 2016-2017 season as the Associate Head Coach of the Shreveport Mudbugs in the North American Hockey League.  TPH helped oversee the hockey operation of the Mudbugs during Anzalone's tenure in Shreveport, and will continue to do so moving forward.
"We are excited to have Francis play a much bigger role in the TPH family," President Nathan Bowen said.  "His organizational, communication and leadership skills, combined with his passion for mentoring players, will assist us in maximizing our ability to positively impact the lives of our student-athletes, while growing our brand at the same time."
Anzalone will serve as Vice-President for the TPH Way.  In his role, the 29-year-old will develop strategies to strengthen the culture of TPH, by first and foremost, implementing a life skills and leadership program that will eventually reach all TPH teams and programs, starting with the newly founded Center of Excellence Hub.  He will interact with TPH athletes on a daily basis, and help craft new ways to accelerate the development of players who train in TPH programs.  In addition, Anzalone will take on a management and advisory role with the Shreveport Mudbugs, and maintain his connection to an organization that received NAHL Franchise of the Year honors last season.
"I am extremely grateful for this expanded role within TPH," Anzalone said.  "This is an incredible career and life opportunity that doesn't come around every day.  I love development.  It's more than a buzz-word.  It's an art.  It's something I have a passion for.  To have the opportunity to work alongside likeminded people who share that passion is an absolute thrill.  To then be able to use that collective passion to make our people and our process better in this new role created by TPH is something I just could not pass up."
Prior to his time in Shreveport, Anzalone spent three seasons with the NAHL's Aberdeen Wings.  He was Associate Head Coach in 2013-2014, before being promoted to Head Coach for the 2014-2015 campaign.  Before that, the Sault Ste. Marie, MI native worked for the Cedar Rapids RoughRiders of the USHL for four seasons.  He occupied a variety of positions for the RoughRiders, ranging from Regional Scout to Assistant Coach.  Francis has been coaching at the youth, amateur and junior levels since he was 18.  It was early in Anzalone's career, when he was introduced to Nathan Bowen, and immediately became involved in the Elite Edge Hockey Showcase, held each June in Nashville.
Bowen adds that the addition of Anzalone to TPH's executive team is just the beginning of a renewed commitment to a vision that has been growing year after year since the founding of the company in 2001.
"The mission of TPH is to perform at a standard that exceeds expectations, one choice at a time.  The decision to make a greater investment in the growth of our athletes by adding this position and putting a person like Francis in the role is a choice that we know will have a great impact for years to come."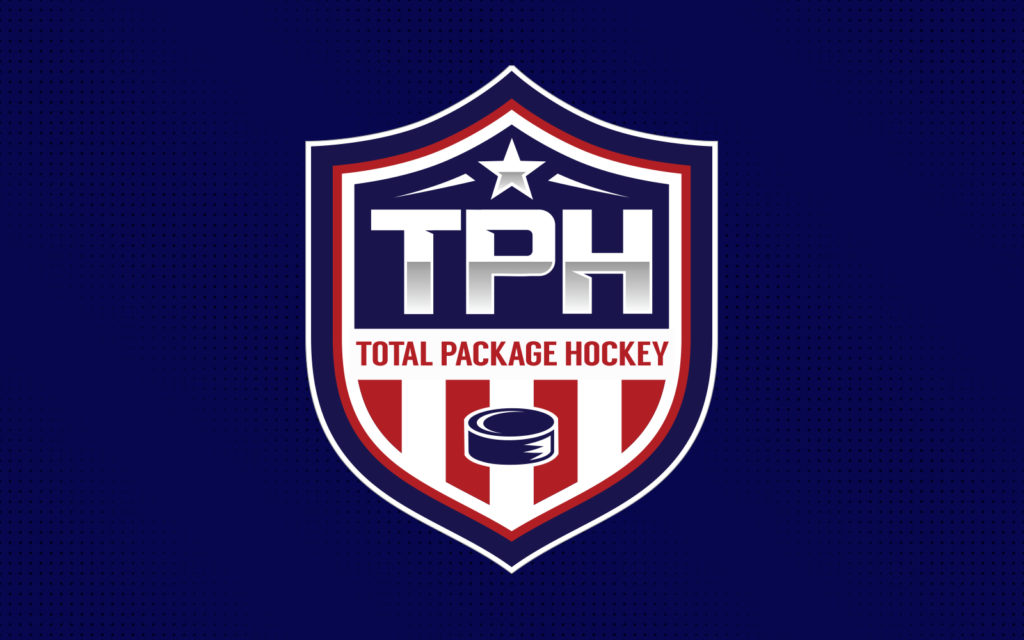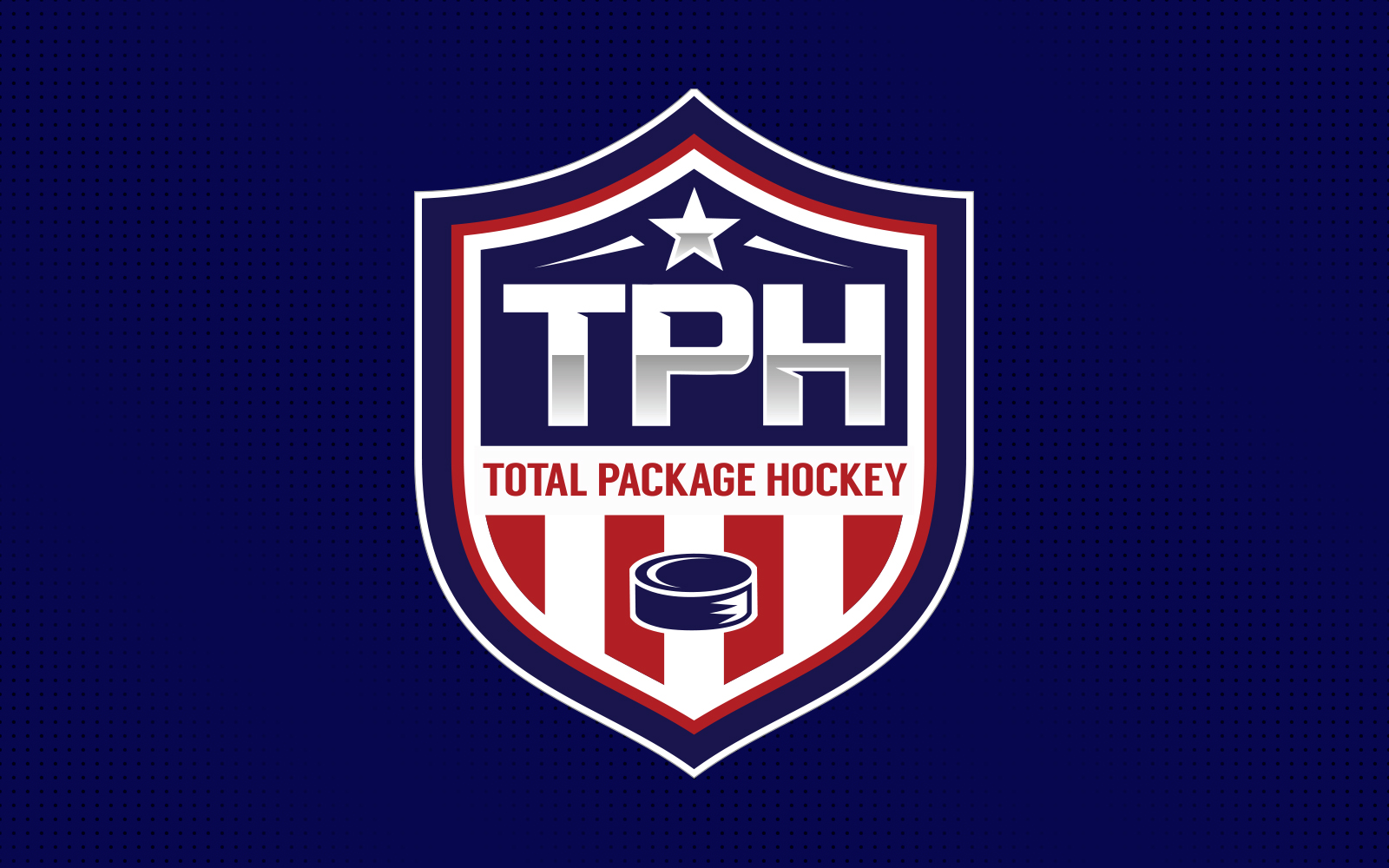 CAN PAUL MCAVOY BECOME KENTUCKY'S FIRST NHL PLAYER?
Kentucky has been home to minor-league ice hockey teams, and the sport has a growing club presence around the Bluegrass State.
Still, it's one of 10 states including Arkansas, Hawaii, Kansas, Louisiana, Nevada, New Mexico, South Dakota, Tennessee and Wyoming believed not to have ever produced an NHL player.
Photo: Surrey Eagles
Paul McAvoy, an incoming freshman for the Division I Colgate University hockey team in Hamilton, NY, would love to be the player to end the drought in his home state.
"I'm trying to show that my roots from Kentucky are not by accident or by chance, that Kentucky is what molded me into a hockey player," said McAvoy, a 20-year-old Richmond, Kentucky., native. "That's what I would want to get across to the country if I had a chance to play at a higher level than I am now."
Though hockey has led him around North America, it was in Kentucky that he fell in love with the game.
"When I was around 5 years old we had the Kentucky Thoroughblades for like a year or two – the AHL team – and my dad took me to a game and I loved it," McAvoy said. "It sparked my interest right away."
So instead of a basketball, he opted for a stick and skates, carrying on his father's love for hockey at the Lexington Ice and Recreation Center by playing for a local youth team called the Lexington Lightning.
It wasn't long before McAvoy and his parents could see that he was talented on the ice. He played as much as he could at the rinks in Lexington and Louisville, however, limited practice time and lower-level competition prevented McAvoy from growing his game once he reached his teens.
After gaining attention from TPH Thunder AAA, an elite-level all-star team, during his last year playing for the Louisville Stallions, McAvoy left Richmond at age 13 to move to Huntsville, Alabama. It was the biggest commitment he had ever made because he had to leave behind his family and also embrace the lofty expectations of a program known for developing NCAA-caliber players. TPH Thunder boasts 51 NCAA commitments on its website.
"I missed my family a lot, that was No. 1," McAvoy said. "It was a tough transition for me — being 13 and all. I ended up moving home halfway through the season because I was homesick, but it was a nice thing for that team to have players from all over the Southeast because I could still live (in Kentucky) and play for them."
From there, his nomadic lifestyle would begin. Ever since, McAvoy has lived in Cleveland, Ohio; Dallas, Texas; Hamden, Conn.; Surrey, British Columbia; and now Hamilton, NY. At each stop, he stayed with a host family, known as a billet family.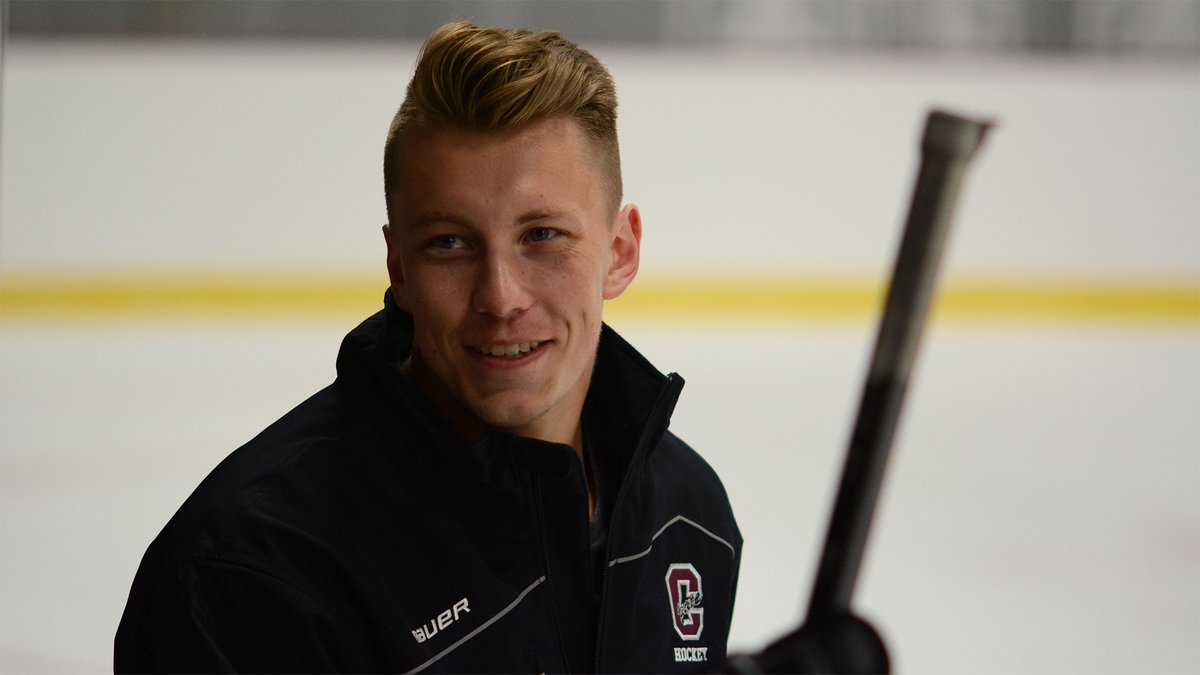 Photo: Colgate Men's Hockey Twitter (@Colgate_Hockey)
"After the first year in Alabama I got used to it," McAvoy said. "The billet families are so important in that process of easing you into your new environment, and teammates help, but every year was a struggle at first to get acclimated to a new place and a new school. … After the first couple of weeks, it's awesome because you get to see a new city and a new place that you wouldn't get to see normally without hockey."
The most noteworthy stops along his journey came after his junior hockey years. Hamden and Surrey are where McAvoy played for the Connecticut Oilers in the Eastern Hockey League and the Surrey Eagles in the British Columbia Hockey League. Those two leagues are widely known as developmental leagues for some of the most talented players in North America and have produced a long list of NHL players. It was there where he began to catch the eye of college hockey coaches.
"It's interesting because my newly hired assistant coach (Juliano Pagliero) knew of Paul from a camp that he worked in Nashville when Paul was probably around 14, but then we lost track of him," Colgate coach Don Vaughan said. "Then he resurfaced again when he was in the EHL in Connecticut. So we were once again aware of him when Pagliero joined our staff, but it wasn't until he got to Surrey that we really zeroed in on him."
McAvoy won the 2014-15 EHL Championship with Connecticut in his lone year with the Oilers. He followed that up with two years in Surrey, tallying 32 goals and 48 assists through 98 games. Along with his statistical contributions, he also served as the Eagles' captain and was named the team's 2015-16 MVP.
"He's a leader," Vaughan said. "He was the captain of Surrey for two years. When you see that in a player … that said a lot to me about the type of person that he is and the kind of kid we want in our program."
There is no doubt his success at the previous levels has raised the expectations from his college coaches for his first season with the Raiders. However, nobody puts more pressure on McAvoy than himself.
"When I first noticed (McAvoy is from Kentucky) was on his recruiting visit with his father," Vaughan said. "It is a fascinating story, and one that I wanted to hear more of. He has the drive to do it and an unbelievable support system at home based on what they had to do to keep Paul in the game. … He's not coming from a traditional hockey area, so I'm sure every time he walked into a new organization people were looking at him funny out of the corner of their eye."
With his NHL aspirations, McAvoy has now become one of Kentucky's best chances to land a player at the highest level of the sport. Even if it takes him a few years after college, he won't give up his dream until he's content with time he's spent around the game.
"I think hockey is one of those things where you have to play until the fun wears out," McAvoy said. "All sports are supposed to be fun, so once the fun stops treating me well, that's the point that I will call it, but I think that's a long time into the future. I'm trying to have fun with every day that I have here at Colgate, and if a professional opportunity comes along it should be even more fun."
Whether he reaches the professional level or not, McAvoy hopes children in Kentucky with interest in hockey will notice his rise in the sport and continue to pursue their dream the same way.
"It's been a long ride, but it's been fun," McAvoy said. "Anybody in Kentucky that's thinking about hockey should know that it's a sport that not only prepares you for high-level athletics, but it's also about life. The lessons you learn growing up, from being mature, to being on your own, to teamwork, to work ethic are incredible."