Posts Tagged 'TPH Phoenix'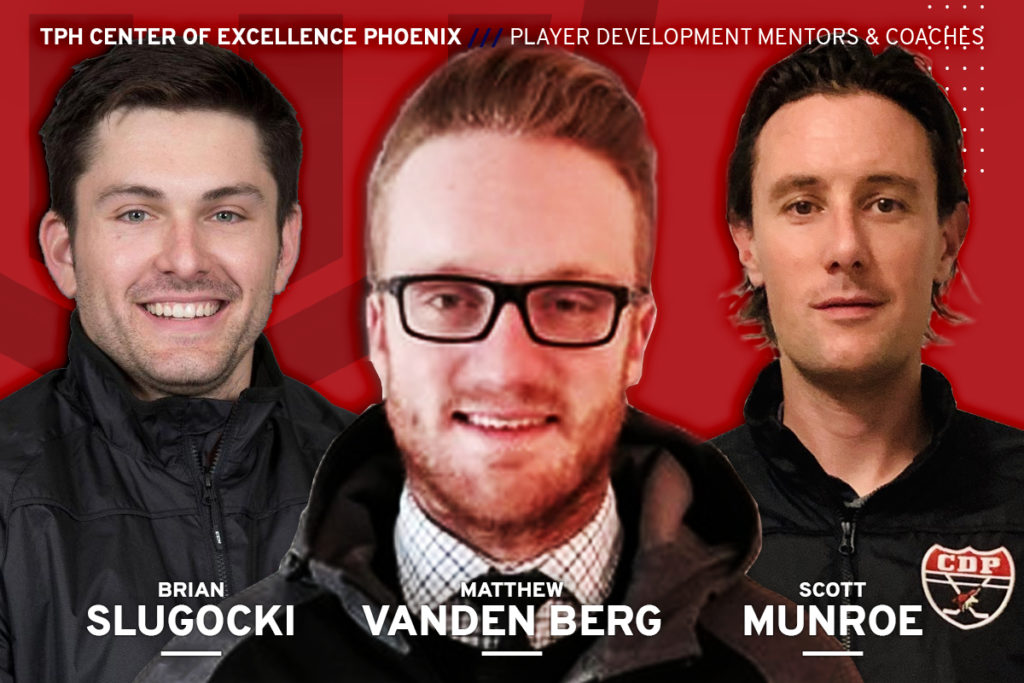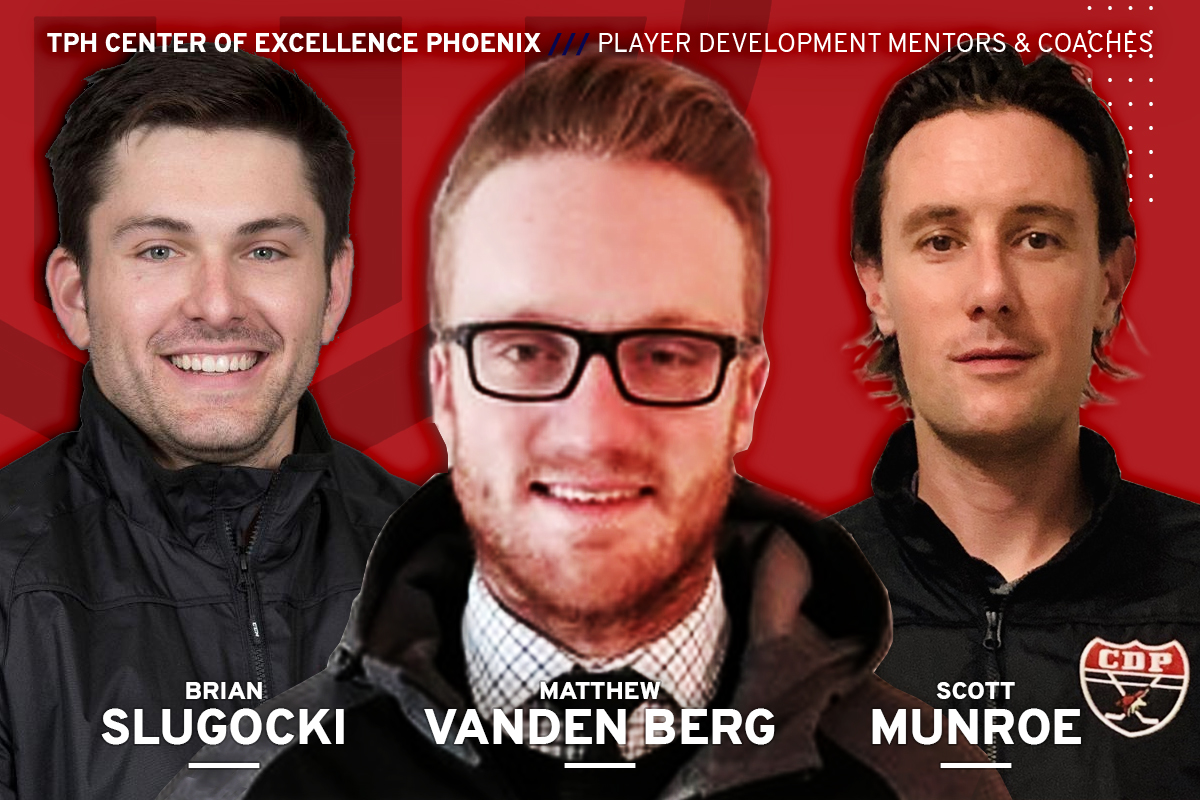 A wealth of junior, college and pro experience added to growing market
(PHOENIX, ARIZONA – August 25, 2020) – Brett Blatchford, Director of Hockey-Operation for Total Package Hockey (TPH) Phoenix has announced the additions of Matthew Vanden Berg, Brian Slugocki and Scott Munroe as Player Development Coaches and Mentors. The addition will bring a plethora of experience and knowledge to TPH Phoenix.
Slugocki played junior hockey in Phoenix with the Phoenix Polar Bears before going on to play for the University of Arizona. He also took his talents overseas for a year in Sweden following his college career. Lately, he's spent time with Darryl Belfry, who is recognized as a leader and innovator in hockey having spent time training players like Auston Matthews, Sidney Crosby, Nathan MacKinnon and John Tavares.
"Brian has first class detail in skill development," said Blatchford on Suglocki. "He's spent time on the ice with Darryl Belfry learning how Darryl teaches and the best ways for people to acquire skill. He's very trusted in the Phoenix community as a skills instructor, especially in the way he communicates with the kids."
Matthew Vanden Berg adds copious amounts of knowledge in coaching. He's been a Director of Player Advancement as well as a coach and mentor with the Milwaukee Jr. Admirals. Plus, Vanden Berg continues to serve as a video coach and analyst with various organizations. His skills in analyzation will also be valuable as TPH locations begin evolving ways to evaluate player performance.
"Matthew has spent the last few years with the Milwaukee Jr Admirals developing players there," said Blatchford. "His level of detail is going to help us, especially with the Kinduct app."
Adding the wisdom of a goaltender is going to be extremely valuable to TPH Phoenix. Scott Munroe brings with him a background in playing and coaching at multiple levels of the sport, including leading the University of Alabama in Huntsville Chargers to a College Hockey America regular season championship in 2003.
"Scott Munroe is a high character guy," said Blatchford. "Scott has coached in the QMJHL and Division III college hockey. He also played eight years in the American Hockey League, so there's a huge amount of knowledge for us to draw from. He's a goaltender and fellow coach and mentor Brendan Burke is a goalie as well. They've been collaborating on the best ways to develop a player here. Those two will lead us."
Embed from Getty Images
All three additions to TPH Phoenix will be excellent role models both on and off the ice, and the student-athletes involved in the program will learn valuable skills that will carry them through life.
"They have to be a role model for the kids from a character perspective, who they are as people and also as mentors," said Blatchford. "That is almost not hockey related, but obviously in the end, they'll have something else to offer. It's character, it's mentorship, it's being a good role model for the kids at our center. I don't think we could have done a better job in Phoenix in that regard."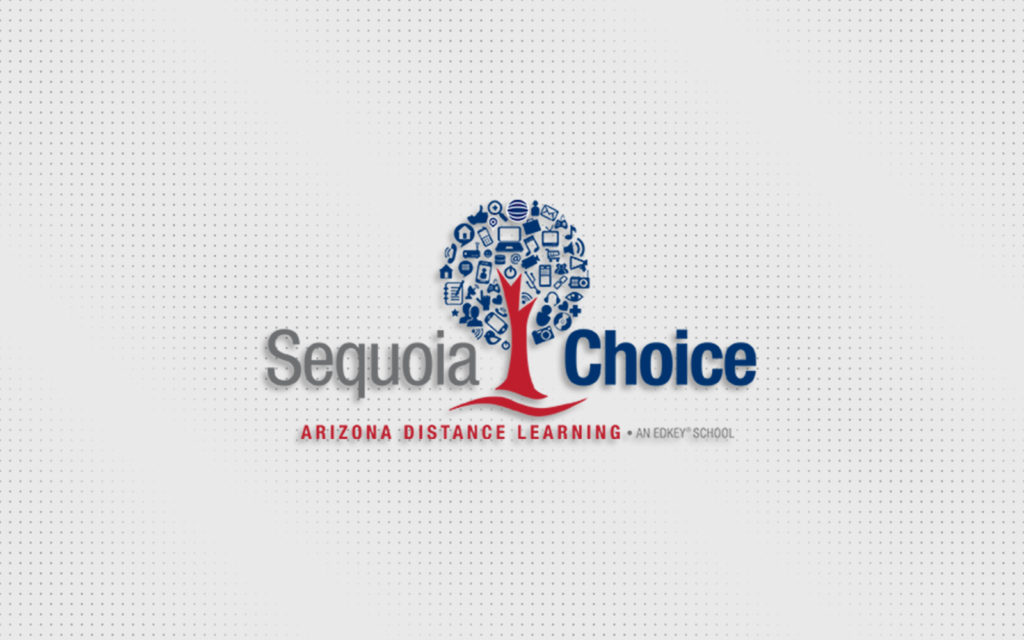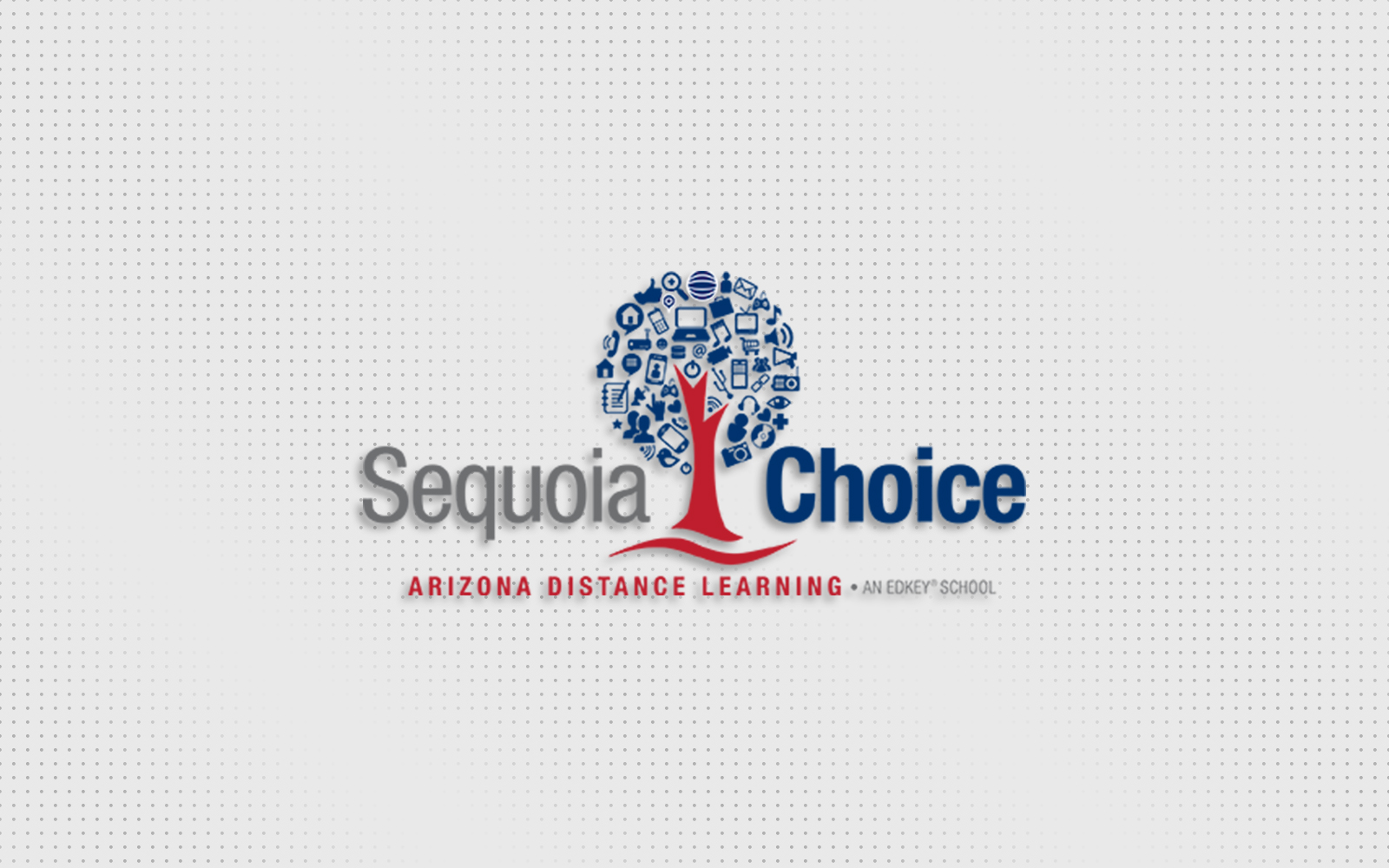 Total Package Hockey is pleased to announce a partnership with Sequoia Choice, an Arizona public charter school that will help deliver the TPH-Edmentum NCAA-accredited, customized, blended academic learning experience to student-athletes at its eighth Center of Excellence, which will open its doors at the Ice Den Scottsdale for the 2020 school year.
"We feel extremely fortunate to be entering into an academic partnership with Sequoia Choice," TPH CEO Nathan Bowen said.  "Sequoia will implement the same rigorous, robust Edmentum curriculum and CoE learning experience provided across all of our Centers of Excellence, to our student-athletes at our TPH-Phoenix Center of Excellence.  The leadership within Sequoia schools are passionate about student success.  Their motto of 'every child is individually known' makes them a perfect partner for us and Edmentum, and a perfect fit for our future student-athletes, who seek a flexible yet customized learning experience.  We are very excited about working with Sequoia to positively impact the lives of student-athletes at our Phoenix CoE."
Sequoia Choice is a tuition-free Arizona public charter school and Legal Educational Agency of Edkey, Inc., a not-for-profit 501(c)(3) corporation. Sequoia was one of the original schools authorized by the Arizona Department of Education to provide distance learning services to Arizona students in grades K-12, and have continued to innovate and advocate for Arizona online schools since 1998.
Sequoia Choice will work alongside TPH and Edmentum to provide the CoE learning experience, one that is built on individualizing and customizing the learning experience based on where, when and how each individual learns best.  The Academic Site Coach and Sequoia leadership will push TPH-Phoenix Center of Excellence attendees to produce positive academic outcomes, which Bowen says, is one of the primary goals with the Center of Excellence model.
"We always say that hockey training is the intrigue that drives interested families to the front door.  Hockey is what gets them interested in the model.  But we believe it is our responsibility to give student-athletes every opportunity to not only achieve their hockey goals, but their academic goals as well.  The CoE model allows our student-athletes to dream big and chase hockey, academics and career all at once.  This announcement puts us in a great position to 'exceed expectations,' which is the mission of Total Package Hockey."
Interested in learning more about the TPH-Phoenix Center of Excellence?  Click here.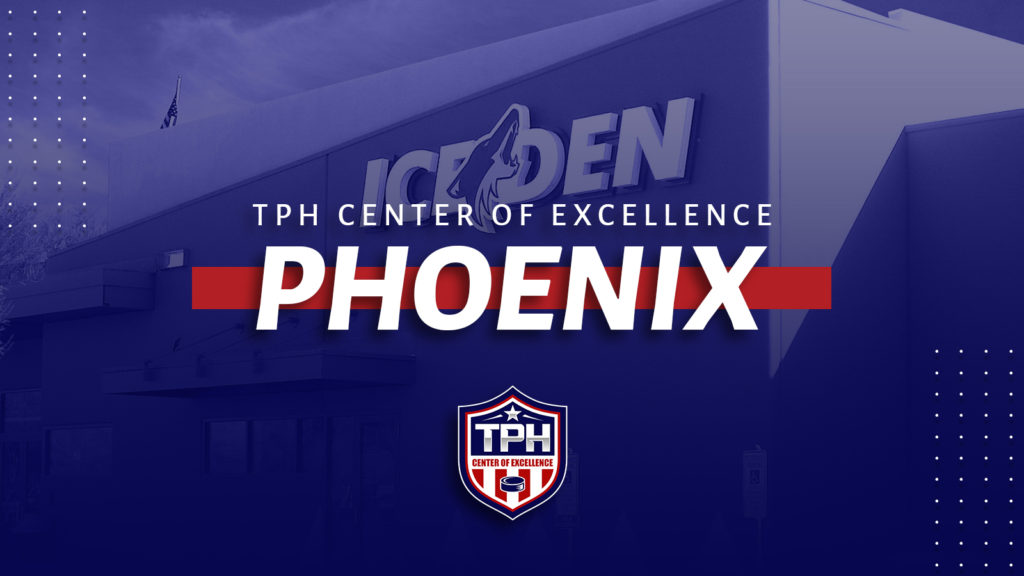 Total Package Hockey is pleased to announce that its eighth Center of Excellence will be housed inside the Ice Den in North Scottsdale, AZ.  TPH and Coyotes Ice LLC, have joined forces to bring its Study, Train, Play academy-style model to the desert for the 2020-2021 school year.
"The Phoenix area is a growing hockey market and we couldn't be more excited to become a part of the Arizona hockey landscape," TPH CEO Nathan Bowen said.  "We are grateful for the opportunity to bring the Center of Excellence to a community like North Scottsdale and be housed in an immaculate, state-of-the-art hockey facility like the Ice Den Scottsdale.  The area is flourishing with youth hockey players and the market itself is second to none.  Being part of the fabric of North Scottsdale and its surrounding communities, as well as having a partner who is as passionate and progressive as Taylor Burke means we are positioned to continue exceeding expectations of student-athletes, their families and all members of the hockey community.  This is a great day for TPH, one we have been working towards for a long time."
Bowen references Taylor Burke, a Minnesota native with an impressive business and philanthropical resume.  The Burke family was responsible for the birth of the NHL Coyotes, spearheading Winnipeg's relocation to the desert in 1996.  Shortly after the team relocated, the family built the Ice Den Scottsdale which resulted in an immediate impact and changed the youth hockey landscape in the state.  In 2011, program growth demanded the addition of a third sheet of ice, followed in 2014 by the acquisition of a second two sheet facility in the southeast valley.  Over 20 seasons later, the building remains the Official Practice Facility of the Arizona Coyotes and offers hockey and skating programming for all ages and abilities.  Constantly evolving and adapting to the needs of its players and skaters has been a key to the facility's success.
In addition to offering quality programming, investing in the community remains top priority for the family.  Since its inception in 1996, the Burke Family Foundation has directed its philanthropic efforts to partnerships and programs committed to providing and enhancing resources in the areas of health, education and athletics.
Still considered by some as a non-traditional hockey market, keeping top hockey prospects in the State of Arizona has in some cases proved a challenge.  Burke believes the addition of the Center of Excellence to the Phoenix market will help entice the area's youth to pursue their hockey goals, but remain at home in the process.
"Our motivation for partnering with TPH is to provide driven hockey players across all youth associations opportunities to master a sport that teaches so many valuable life lessons," Burke said.  "In partnering with TPH, we are providing the next level of that and so much more.  Young hockey players in our area who have dreams of playing at the highest levels of hockey now have an elite-level training and academic learning option right in our backyard.  The CoE model will incentivize families to keep their young hockey players at home, maintain the quality lifestyle the Phoenix metro area offers all of us and provide their sons and daughters access to a hockey academy that is truly cutting-edge.  TPH's arrival is a great win for hockey families across the entire Arizona hockey community."
The "cutting-edge" program Burke speaks to references TPH's on and off-ice Hockey-Athlete training curriculum, as well as its completely individualized, customized blended academic learning experience through Edmentum.  Student-athletes attend the Center of Excellence on a clock similar to traditional school and receive elite-level hockey training and mentorship, all while studying in a learning environment that blends a proven, NCAA-accredited online learning platform with on-site academic leadership.
It is important to note that from an academic perspective, the Center of Excellence is not a "home school," nor is it a "virtual school."  The CoE is a blended learning environment that utilizes an online platform to maximize academic development and outcomes customized for each individual student-athlete.
It is important to note that from an academic perspective, the Center of Excellence is not a "home school," nor is it a "virtual school."  The CoE is a blended learning environment that utilizes an online platform to maximize academic development and outcomes customized for each individual student-athlete.
"The CoE model creates a best-of-both-world's scenario," Nathan Bowen explained.  "Student-athletes complete their coursework online and have the option to take school home or on the road with them every day, with no fear of days missed due to their travels.  At the same time, when student-athletes are on-site, they study under the direction of an academic leader who is focused on fostering a positive culture, maintaining accountability and putting a learning plan in place for each individual based on where, when and how he or she works best.  Our layered academic approach ensures that when it's time for our student-athletes to focus on hockey, whether its training at the CoE, practicing with their club teams or jumping on a plane to travel to games, they are on-pace or ahead in their courses."
The process of implementing everything Bowen referenced is well underway.  From a facility standpoint, Coyotes Ice President Mike O'Hearn says preparations are being made at the Ice Den Scottsdale as we speak.
"The collective vision of Coyotes Ice and TPH, is to create a one-stop-shop on the Ice Den grounds for all CoE attendees," O'Hearn said.  "We have identified space that will house a state-of-the-art academic wing and training center, both within steps of the ice arena's main doors.  We plan to offer on-site lunch plans, athlete-friendly snacks and a space for video sessions.  This vision is in line with TPH's philosophy of creating mini-campus style setups within their CoE locations.  Our hope is that the TPH-Phoenix Center of Excellence will set the standard for what a CoE should look like."
Even though the 2020-2021 school year is roughly nine months away, TPH will be releasing a variety of informational materials and will be scheduling a handful of both virtual and on-site open house events over the next several weeks.  In the meantime, CEO Bowen hopes that Phoenix area hockey families will build up a sense of intrigue and give him and his team the opportunity to "show" the hockey community how the Center of Excellence will impact the aspiring elite hockey player, athlete, student and person.
"The vision of Total Package Hockey is to become the world leader in positively impacting the lives of student-athletes through the game of hockey.  From being around Taylor and his team as well as interacting with others in the market, it is evident that in North Scottsdale and the surrounding areas, there is both passion and an expectation for doing things the right way.  The CoE model is by no means perfect, but we believe it has the power to change lives for the aspiring elite hockey player, on the ice, in the weight room, in the classroom and most importantly, in the ultimate game- the game of life."
TPH invites all interested Phoenix Center of Excellence candidates to visit the links below.